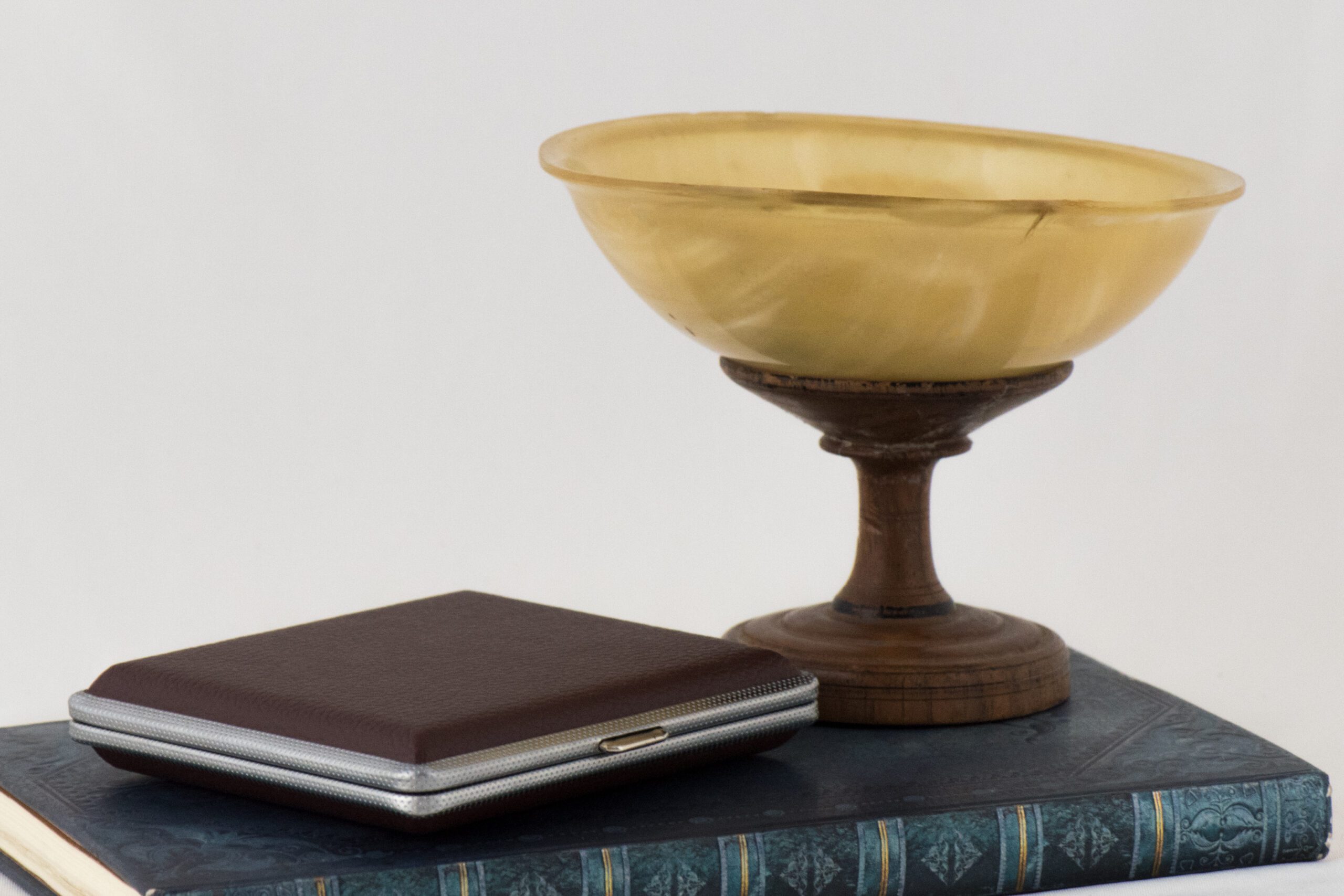 Vintage art deco cigarette case – 'Thomas Shelby' DU25
If the Modern Gentleman smokes, then he is called upon to do so with refinement. Forget about the obviously unattractive packages and adopt theluxurious art deco cigarette case.
Indeed, this brown leather vintagecigarette case, the Thomas Shelby, will be perfect to protect with style twenty cigarettes without missing to bring back to the taste of the day, the charm of vintage, so rightly in fashion. Once called "flat fifties" in the United States, these early cigarette cases were popular as early as 1920. Today, the most iconic box remains that of Lucky Strike, which could contain up to fifty in a single box.
Moreover, if you quit smoking one day, thevintage leather cigarette case can be reused as a card holder, which can still be used by the man of taste that you are, for a peaky blinders style look. Whether you are a Parisian gentleman or a gentleman farmer, this luxury art deco cigarette case is for you. Moreover, this cigarette case, subtle, charming and practical, is a gift of choice to offer on any occasion, completing your outfits style peaky blinders.
Description
Additional information
Description
The vintage leather cigarette case and the antique cigarette holder first appeared in the privileged spheres in the 1890s in the United States during the industrial revolution. The vintage cigarette smoker was first installed in high society by men during boudoir meetings. It was then popularized by the socialite women of yesteryear in the 1910s and generalized worldwide in 1935.
The democratization of the luxurious vintage cigarette holder by women like Princess Margaret or Jacqueline Kennedy, was a major issue for the suffragette era; The main goal was to bring modernity and equity between men and women. The luxury cigarette case slim art deco, its democratization will be amplified during the post-war years to carry more easily packs of 50 cigarettes previously called 'Flat Fifties'.
The appearance of two-piece suits finally transformed this worthless object into a real decorative accessory for gentlemen. Today, using a vintage leather cigarette case or cigarette holder allows you to distinguish yourself by adopting a refined style mixing history and modernity.
These luxurious slim art deco cigarette cases will follow you everywhere: summer or winter, they will be the essential fashion and chic accessory for the gentleman and the gentlewoman and will magnify your stylish look
peaky blinders
.
These vintage cigarette holders will dress with charm and elegance your outfits as well as your suit jackets. Seductive and refined, our cases
Modern Gentleman
tastefully combine refined patterns and modern colors for a distinguished look. Accessories of mystery and charm of the most seductive, they will refine your sense of elegance. Express your poetry with a case or a vintage cigarette holder, with multiple possibilities of associations, thanks to its malleability and its unique soft texture.
The vintage leather cigarette cases at Modern Gentleman can complement your old fashioned zippo lighter, your shirt, be worn with an old fashioned liquor flask, or radiate your gavroche beret, this list of uses not being exhaustive, extending to perfect your 'Parisian gentleman style'.
This luxurious slim art deco cigarette case collection features a variety of materials in bold colors. Black, brown, brick leather and deep gray will offer you, by their colorimetric compatibility, a wide potential of styles, these will be revealed by trendy materials.
A vintage leather cigarette case or antique cigarette holder is a personal and intimate item, born from an idea that one gives as a gift to please oneself, or simply a gift to offer for a party or a birthday. Let yourself be tempted by our collection of leather cases or wooden cigarette holders, each one more beautiful than the next. They will accessorize your outfit with a touch of elegance and sophistication for a peaky blinders look.
Being a gentleman farmer with style is not something you can imagine or dream of. A gentleman farmer is built through action and over time.
Be different, through elegance. Be a Modern Gentleman. A gift to please yourself, or simply to offer. Modern Gentleman, creators of emotions'.
Additional information
| | |
| --- | --- |
| Lengthcm) | 8.5 |
| Widthcm) | 8.5 |
| Heightcm) | 2.1 |
| composites-row | 100% Stainless Steel; 100% Leather |
| particularitproduit | Container for 20 cigarettes |
| Coloris | Brown, Silver |
| Material | Smooth leather, Stainless steel |
| Style | Casual, Chic, Design, Peaky Blinders, Steampunk, Vintage |
| brand | Modern Gentleman |
| référence-modern-gentleman | BOFMB0928192 |
| sex | Unisex |
| tranche-age | All |
Vintage art deco cigarette case – 'Thomas Shelby' DU25
$26,76